You requested them. We've got them.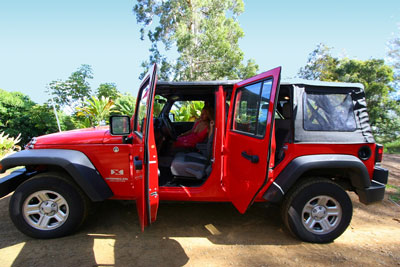 Our national rental car partners have recently added 4-Door Wrangler Unlimited Sport Jeeps to our rental Jeep line-up. We are pleased to be able to offer this SUV vehicle to you at a heavily discounted price.
When more than two people are going to be riding in your rental vehicle, a 4-door is the most comfortable and convenient choice. This is especially true for Jeeps. 2-door front passenger Jeep seats are hefty to pull up and forward. Even passengers with a small frame must squeeze between the door frame and seat, in its forward position. The additional 20+ inch longer 4-Door models make a lot of sense if you are going to be transporting 2 or 3 passengers (and their gear) in the rear seat.
Your air conditioned 4-door Wrangler has many amenities including a media center with 6-speaker CD/MP3 player and radio. Cloth seats with adjustable head restraints, full-metal doors with roll-up windows and a heavy duty rear axle add to the 5-passenger Wrangler's comfort and convenience.
Finally, under the rear storage area, at floor level, is a locked, hidden compartment in the 4-Door Wrangler Unlimited. While we never recommend leaving valuables in any rental vehicle, this will provide a tidy space to put your extra gear so that the vehicle appears empty when you leave it parked.
Take advantage of our exceptionally discounted rates when you Rent a 4-Door Wrangler Unlimited from us today.